Moorookyle Park Thoroughbreds was developed in 2010 by its current day Director, Nioka Wozny.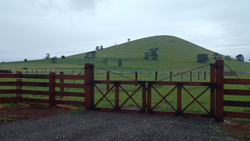 Moorookyle Park front gate
The family owned farm is located five minutes out of the historic town of Smeaton and fifteen minutes out of beautiful Daylesford.
The farm was originally used for primary production purposes including cropping, sheep farming and many years ago, potato production. This land is well-known for its superb capabilities for growth of animals and pastures having some of the most fertile soil in the region. It has reliable rainfall coupled with a warmer climate than nearby Ballarat.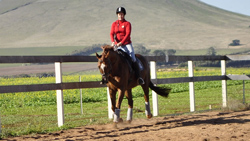 Nioka in action
Over the last five years the farm has been developed into a boutique facility of nearly 100 acres for some of the finest bloodstock from around the globe. The facility has security cameras fitted throughout the stud farm using state of the art technology to provide a safe environment for your investment. All of our paddocks are fenced and have horse shelters; horses' safety being of paramount importance. We cater for all the various needs of a progressive commercial farm with fencing for stallions, broodmares, foals, fillies and colts.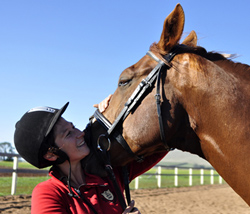 Attention from Nioka
The lush pastures have been developed with leading agronomists that have worked in the Australian Horse Breeding Industry and have a keen understanding of the nutritional needs and developmental requirements for the growth of good boned thoroughbreds. We work closely with horse nutritionists to ensure that the blend of quality horse feed we use meets the needs of all our horses. Particular attention is paid to the handling of young horses, all foals receive individual care from birth ensuring optimum development – this is Moorookyle Park's point of difference.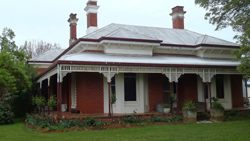 Moorookyle Park homestead