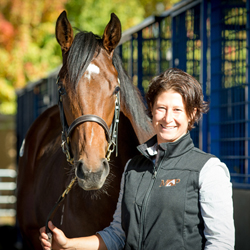 Director | Stud Manager | Owner
Nioka has been involved in horses all her life. Her background in horses has been showing, dressage, general stud work and breeding.
Throughout the Breeding Industry in Australia, Nioka is known as one of most astute and competent Studmasters, her point of difference being her attention to detail and her care and love of horses. Her expertise of broodmares in particular is second to none in the industry, getting the critical things done such as getting your mare in foal is the cornerstone of her success.
Nioka's desire to succeed and sheer hard work is unrivalled in the industry.