Encosta de Lago (AUS) – Tonicity (AUS)
Service Fee-$3,300 Incl GST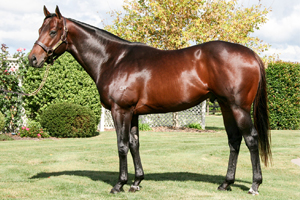 By Champion Sire Encosta de Lago
Out of dual stakes- winning Mare Tonicity
A striking son of leading Australian sire ENCOSTA DE LAGO, Cecconi was a AU$460,000 yearling purchase at Inglis Sydney Easter Sales and was trained throughout his career by master Trainer David Hayes.
CECCONI raced only 14 times, 10 occasions in Black Type events and competed with distinction against some of the finest sprinters in Australia finishing 7 times in the first four.
From former top race mare and multiple Stakes winner TONICITY, he is closely related to Gr.1 Golden Slipper winner and leading Sire-son of Champion REDOUTE'S CHOICE .
Comments from Westbury Studmaster Russell Warwick:
" He is a good looking individual with a beautiful temperament. Stallions with good Australian speed credentials are very hard to acquire – being a son of Encosta De Lago with the speed influences of Marscay, Lunchtime & Tudor Minstrel close up in the pedigree, he should prove an attractive proposition for breeders "
CECCONI stands alongside a prominent list of young Encosta de Lago Sire sons including Manhattan Rain, Road To Rock, Delago Brom, Delago Deluxe & former Northern Meteor (now deceased) – Sire of ZOUSTAR ,the brilliant multiple grade one winning juvenile, grandson of Encosta de Lago.
For further details, I welcome your enquiry.
Career Highlights for
Cecconi (AUS) 2004 Bay horse
by Encosta de Lago (AUS) – Tonicity (AUS)
1st MRC Blue Diamond Preview (L) 1000m
2nd STC Pago Pago Stakes (Gr.2) 1200m
3rd MVRC Bill Stutt Stakes (Gr.2) 1600m
4th VRC Sires Produce Stakes (Gr.2) 1400m
4th MRC Merson Cooper Stakes (L) 1000m
Cecconi (AUS)  Bay horse, 2004
Sire
Encosta de Lago (AUS)
1993
Fairy King
Northern Dancer
Nearctic
Fairy Bridge
Bold Reason
Shoal Creek
Star Way
Star Appeal
Rolls
Mr. Prospector
Dam
Tonicity (AUS)
1992
Blazing Sword
Marscay
Biscay
Royal Plate
Lunchtime
Bravado Wonder
Steel Pulse
Diatome
Undaunted
Le Cordonnier
ENCOSTA DE LAGO (AUS) (Bay 1993-Stud 1997). 3 wins, VATC VicHealth Cup, Gr.1. Champion Aust. Sire twice. Sire of 1513 rnrs, 1043 wnrs, 105 SW, inc. Princess Coup (Hawke's Bay Kelt Capital S., Gr.1), Lashed, Sirmione, Puccini, Racing to Win, Alinghi, Sacred Kingdom, Mnemosyne, Delago Deluxe, Road to Rock, Smokin' Joey, Titanic Jack, Aloha, Newport, Delago Brom, Costa Viva, Manhattan Rain, Northern Meteor, Apercu, etc.
1st dam
TONICITY, by Blazing Sword. 7 wins-1 at 2-to 1500m, A$202,030, SAJC Centaurea Trophy, L, VATC WW Cockram S., L, VRC Mark Sensing Sprint H., VATC Riva Diva H., Denise's Joy H., 2d VATC Thoroughbred Club S., Gr.3, MVRC Noel Calvert H., VATC Ian Miller H., MVRC Aspect Computing P., Flotilla H., SAJC LH Trophy Quality H., 3d SAJC Morphettville Guineas, L, VRC Mittys World of Sport H., VATC Harry Telford H., Emerald 2YO H., 4th VRC Hardy Brothers Prelude S., L. Sister to BODACIOUS BABE. Dam of eleven foals, nine to race, eight winners, inc:-
CECCONI (c. by Encosta de Lago). Winner. See below.
Fire Hazard (g. by Favorite Trick). 11 wins to 1400m, A$155,460, VRC Wyndhamvale H., MRC Moss Rocket H., 2d MVRC Schweppervescence P., Legends After the Last H.
Test of Time (g. by Testa Rossa). 8 wins-1 at 2-to 1400m in Aust. and Macau, Macau Ballinrobe H., Japan Racing Association Trophy, 2d VRC Musidora H., 3d MRC Clean Force H., MVRC Tattersall's Cox Plate Media Awards H., Macau Cheerine Champion H., 4th Macau Magic Millions Futurity Trophy, L.
Highland Rogue (g. by Zenno Rob Roy). 4 wins from 1150m to 2050m to 2013-14, MVRC Ranvet H.
Arondight (g. by Anabaa). 2 wins at 1300m, 1600m, A$85,095, MVRC Swift Signs H.
Shuilamgoodfortune (g. by King's Best). 5 wins at 1000m, 1050m in Macau, 3d MRC Toy Show 2YO H., Star Shower 2YO H.
Red Letter Day (c. by Domesday). Winner at 2 in 2013-14 in Aust.
Heavenly Wonder (f. by God's Own). Winner at 1000m in Aust.
Brave Heroine (f. by Hennessy). Placed in Philippines. Dam of-
Dust in the Wind. 2 wins at 1000m, 1200m in 2014 in Philippines.
Belle of the City (f. by Bel Esprit). Unraced. Dam of-
Second Option. Winner at 1200m in 2014-15 in Aust.
2nd dam
Bravado Wonder, by Steel Pulse. Winner at 2, SAJC Tarlatan H., 2d SAJC Cheltenham S., Gr.3, Morphettville P.H., L, 4th SAJC Oaklands P.H., L. Sister to Rare Perfume (dam of RIPPER), half-sister to BRAVE NEW WORLD. Dam of 11 foals, all raced, 10 winners, inc:-
BODACIOUS BABE (Blazing Sword). 7 wins-1 at 2-from 1100m to 1600m, A$123,655, SAJC Alcohol Go-Easy Cup, Gr.3, Blackwell Funerals Quality H., Glenelg Chambers of Commerce H., Just a Dancer H., 2d VRC Mid-Winter H., MVRC Mark Of Esteem H., VATC Woodpeckers Club H., 3d Balaklava Cup, L, SAJC Mr Smith H.
TONICITY (Blazing Sword). 7 wins. See above.
Kalimna. 8 wins to 1300m, A$136,675, MVRC Membership H., VATC Cendrillon H., Onkaparinga RC Alcohol Go Easy H., Woodroffe Shillabeer P., 2d MVRC Crown Asia-Pacific H., VATC TP Fenner H., 3d VRC Maybe Mahal H., MVRC BMW Sprint H., Distaff P.
3rd dam
UNDAUNTED, by Le Cordonnier. Placed at 3, 3d AJC Stakes. Sister to GILT PATTEN, Dupont, half-sister to LONE WOLF, LORD REGO. Dam of 3 foals, 2 to race, both winners–
BRAVE NEW WORLD (Vain). 3 wins at 2, TRC Champagne S., L, MVRC Derrimut H., VATC Chicquita S., 2d MVRC Kinrose H., 4th SAJC Dequetteville S., L. Dam of-
Bourgeois. Unraced. Dam of-
STRATUM (Redoute's Choice). Joint third on The 2005-06 Australasian 3YO Classification (sprint). 2 wins at 2, A$2,244,500, STC Golden Slipper S., Gr.1, Pago Pago S., Gr.2, 2d VRC Age Classic S., Gr.2, City Tatt's RC Roman Consul S., Gr.2, MVRC Bill Stutt S., Gr.2, AJC Up and Coming S., Gr.3, STC Skyline S., Gr.3, 3d VRC Newmarket H., Gr.1, Rory's Jester P., Gr.3, 4th AJC San Domenico S., Gr.3. Successful sire.
DYSTOPIA (Redoute's Choice). 7 wins to 1300m, A$642,230, to 2013-14, VRC GH Mumm S., Gr.3, ATC Triscay S., L, Toy Show H., L, 2d ATC Premiere S., Gr.2, VRC GH Mumm S., L, 3d ATC Theo Marks H., Gr.2.
Grand Performance. 4 wins to 1200m, A$100,955, AJC Randwick Convention Centre H., STC Cabramatta Rugby League Club H. Dam of-
BURGEIS (Catbird). 2 wins-1 at 2-at 1000m, 1200m, A$216,845, SAJC Proud Miss S., L, 3d MRC Blue Diamond S., Gr.1, VRC Sires' Produce S., Gr.2, MRC Blue Diamond Prelude (f), Gr.3. Producer.
Bravado Wonder (Steel Pulse). Winner. See above.
Rare Perfume. Unraced. Dam of-
RIPPER (Mister C). 8 wins from 1200m to 2000m, A$296,072, NSW Tatt's RC Tattersall's Club Cup, L, 2d STC Kingston Town S., Gr.3, Parramatta Cup, L, Winter H., L, Sky High S., L.
Race Record: 14 Starts 1-3-1 A$185,550.
Winner at 2, A$185,550, MRC Blue Diamond Preview (c&g), L, 2d STC Pago Pago S., Gr.2, MRC Be Seen Premier Signs P., Le Pine Funeral Services H., 3d MVRC Bill Stutt S., Gr.2, 4th VRC Sires' Produce S., Gr.2, MRC Merson Cooper S., L.